Grants for the Rome Courthouse
The generosity of many public and private donors has helped us in the 2022 roof replacement, as well as with ongoing maintenance of the building and update of its furnishings:
OCRA (Indiana's Office of Community and Rural Affairs)
With the assistance of the Indiana Region 15 Planning Commission, we received a federally funded grant to develop a sustainable long-term plan for the building's restoration. This plan consists of three phases: exterior, interior, and a new addition with ADA-compliant restrooms and a catering kitchen.
Community Foundation of Perry County
The Community Foundation awarded a grant for the replacement of a critically needed damaged beam.
Indiana Historical Society Heritage Support Project Grant
A $50,000 Heritage Support Grant from the Indiana Historical Society specifically targeted the replacement of the roof and chimneys. This grant was made possible by Lilly Endowment, Inc.The roof replacement is part of a larger project that includes new gutters, new downspouts, and cupola and masonry work. The total cost of this larger project is in excess of $100,000. Together with individual donors, Friends of the 1818 Rome Courthouse, Inc., is providing the additional funds. The roofing contract was awarded to Helming Brothers, Inc., of Jasper, and construction began in March 2022.
An IHS Heritage Support mini-grant for website development, provided by the Indiana Historical Society and made possible by Lilly Endowment, Inc.
Southern Indiana Power
Two Operation Round Up grants were provided through Sirec Community Trust: One for new tables and another for a heating unit on the main level.
Additional Contributors
Tell City Regional Arts Association
Grant Match Donors
Generous givers to Friends of the 1818 Rome Courthouse, Inc.
Individual contributors generously gave tens of thousands of dollars to jumpstart our renovations and make it possible to apply for grants. Many of these people are even making repeat donations to ensure our continued success. Our appreciation knows no bounds.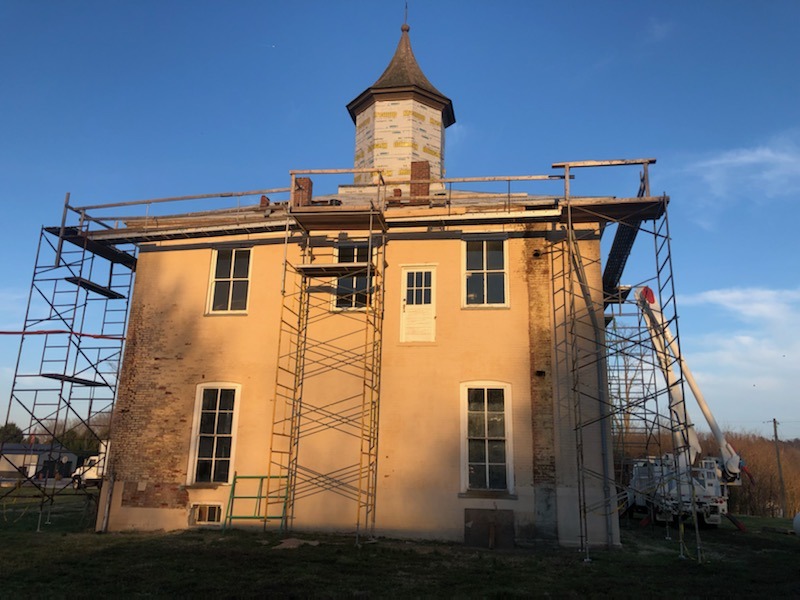 Donors to the Rome Courthouse
Never in the history of the Rome Courthouse has there been such an outpouring of business community support for our events!
All Kinds of Scrap, Inc.
Arby's
Barge Inn
Behind the Times Bakery
Bill and Dave's Smokin' Pit
Bliss Artisan
Bandon Bar and Grill
Big Tales Fishing Supplies
Blue Heron
C & J Firearms
Cash Waggner and Associates
Celebrations
Dairy Queen
DAR
Perry County Convention and Visitors Bureau
Derby General Store
Derby Market
Derby Tavern
E & E Sporting Goods
Farm Bureau Insurance
Fazoli's
Feed The Giant
Fiedler Family Farm – (Jim and Mimi Fiedler)
Fiesta Grande
Firehouse Printing
First Class Services
Fischer Furniture
French Lick Resort
German American Bank
Guillaume's Store
Hedinger Beverage
James Family Farm – (Larry and Marlene James)
Home Mutual Insurance
Huber Funeral Homes
Iron Gate Pizza
Katrina's Upscale Resale
Long John Silver's
Los Amigos
Marcy's 
Noble's IGA
Olive Garden
Orscheln Farm and Home
Papa John's 
Patio Steak House
Radio Shack
Skinsations
St. Benedict's Brew Works
Small Town Java
Subway
The Pour Haus
Thunderbolt Ridge Farms – Aaron and Sally Mosby
Tractor Supply Co.
Ubelhor & Sons Insurance
Waupaca
Wendy's 
Winkler's
V's Sweet Treats – Valerie Cole